Tuesday, September 22, 2020 – Stacy Taniguchi

Stacy Taniguchi is a recently retired professor from Brigham Young University's Marriott School of Business. He received his Ph.D. from BYU with a focus in educational leadership and foundations. He is the owner, senior consultant, and chief guide of Kahiltna Visions, a wilderness guiding and outdoor adventure consulting company based in Orem, Utah, and Anchorage, Alaska for the past 35 years.
Stacy has an extensive background in mountaineering and international expedition leadership, including notable climbs of Denali (aka Mt. McKinley), Aconcagua, Kilimanjaro, Elbrus, Vinson, and Everest. He has also climbed Yosemite Valley's most famous walls, El Capitan and Half Dome. Having lived and guided in Alaska for over 25 years, he specializes in outdoor adventures in the State known as "The Last Frontier". He also guides adventures in Hawaii, South America, East Africa, southern Russia, Nepal, Europe, Australia, New Zealand, and the South Pacific.
Having studied tort liability law at BYU's J. Reuben Clark Law School, Taniguchi is frequently sought after for risk management and expert witness consultations involving civil law cases regarding outdoor recreational activities and equipment product liability. For the past 10 years, he has been involved with designing experiential programs for corporate leaders and EMBA/MBA students, as well as helping families seek their family legacy in order to build multi-generational wealth.  
He and his wife LuAnn have four children and ten grandchildren (as of 2019). He currently divides his time between Utah, Alaska, and his home state of Hawaii.
Wednesday, September 23, 2020 – Chad Hymas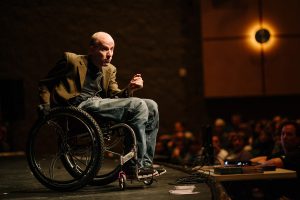 Chad inspires, motivates, and moves audiences, creating an experience that touches hearts for a lifetime. He is one of the youngest ever to receive the Council of Peers Award for Excellence (CPAE) and to be inducted into the prestigious National Speaker Hall of Fame.
In 2001, at the age of 27, Chad's life changed in an instant when a 2,000-pound bale of hay shattered his neck, leaving him a quadriplegic. But Chad's dreams were not paralyzed that day—he became an example of what is possible.
Chad is a best-selling author, president of his own communications company, and recognized world-class wheelchair athlete. In 2003, Chad set a world record by wheeling his chair from Salt Lake City to Las Vegas (513 miles).
Chad's speaking career in the areas of leadership, team building, customer service, and mastering change has brought him multiple honors. He served as president of the National Speakers Association Utah chapter and is a member of the elite Speakers Roundtable (one of twenty of the world's top speakers).
As a member of the National Speakers Association, Chad travels as many as 300,000 miles a year, captivating and entertaining audiences around the world. He has graced the stage of hundreds of professional and civic organizations, including Wells Fargo, Blue Cross Blue Shield, AT&T, Rainbird, IHC, American Express, Prudential Life, Vast FX, and Merrill Lynch.