Can there be a networking day without golf? We don't think so! Enjoy networking with colleagues while golfing at the picturesque Canmore Golf & Curling Club. This course, founded in 1926, boasts 18 holes with grass greens, lush fairways all well manicured and maintained.
The course is not long by design but chock full with shots that require skill and strategy. All the clubs in the bag will be needed as this is a thinker's course. Holes with narrow fairways, bunkers and water protected pin locations that can be played from 4 sets of tees. The course has something for all levels of players from the beginner to the most skilled professional. The mountain views, natural water hazards, famous Bow River and the occasional visit from the native wildlife will all be a wonderful diversion from your game.
Registration includes breakfast, golf, lunch, and transportation to and from the hotel.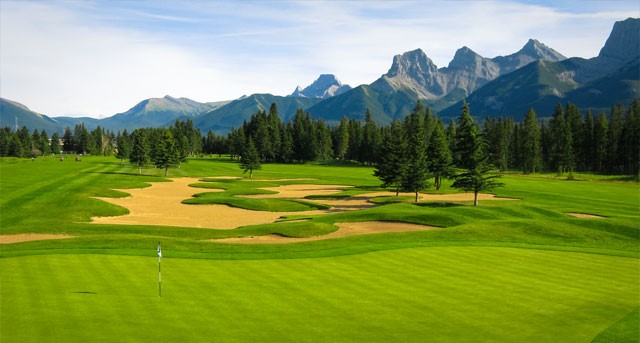 Club Rentals
Club Rentals are available, but are not included in the networking fee. Rental Fees are to be paid to the golf course on location. The fees for club rentals are $42 CAD.
Golf Course Dress Code
Canmore Golf has a dress code which has been established and is enforced at all times in all parts of the golf course, excluding the club house.
Guidelines Golf Course:
Neat and clean business or casual dress is mandatory
Dress must be properly fitted and appropriate to the occasions
No blue, black or white jeans (pink and fashion colours are okay)
No bathing suits, halter-tops, extremely short shorts (4 inch inseam for shorts, 15 inches top to bottom), sweat pants, t-shirts with logos and inappropriate footwear such as hiking and cowboy boots are prohibited
Shirts with no sleeves must have collars
Shirts with sleeves may have no collar
Dress code applies to all people on the course including walkers, spectators and tournament assistants.