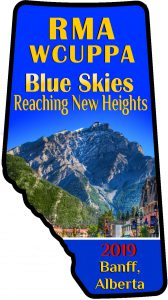 Thank you to everyone who joined us at the 2019 RMA|WCUPPA Annual Conference in Banff Alberta!  We hope everyone had a wonderful time, learned a lot, and made some great connections…  we sure did.
Hope to see you all again next year in Salt Lake!
See your favourite conference presentations again…. Click Here
2019 Conference Photos…. Click Here
---
The 2019 RMA and WCUPPA Annual Conference,  hosted this year
by the University of Calgary, was held in beautiful Banff, Alberta, CANADA,
September 16-18 at the Banff Centre for Arts and Creativity.
This year's featured speakers were:
"Jungle" Jim Hunter (the Original Crazy Canuck)
and
Caroline Hedin (Parks Canada)
---
Rocky Mountain APPA (RMA) holds an annual conference each year, combined with educational sessions and networking activities in a regionally customized professional development conference. This year, this regional conference will be hosted together along with the WCUPPA (Western Canadian Universities Physical Plant Administrators) annual conference.
The location for the annual APPA conference alternates throughout the Region. The RMA Board's Annual Meeting Coordinator nominates potential Host institutions for Board vote usually three years prior to the event date because it requires lead time for comprehensive planning of the event. The Host institution nominates a Chair-person that joins the RMA Board for the four year duration (3 years of planning prior to the event and 1 year following the event for planning assistance).
These annual meetings are premier events for educational facilities professionals. They are a networking and learning experience for facilities officers, directors, and management personnel at every level from Facilities Management which includes Operations and Maintenance; Campus Planning; Project Management, Construction and Architectural Services; all other institutional services.
The educational sessions explore the latest trends, challenges and solutions facing facilities organizations within colleges and universities; K-12 private academies and public school systems; libraries, museums, and other institutions of learning.