Special Notice for Primary Reps and Proxies:
Voting for APPA officers ends
Tuesday, April 23, 11:59 p.m. EDT.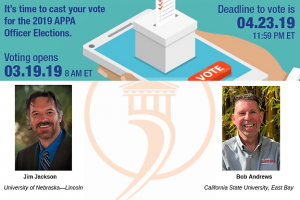 ---
Welcome to Rocky Mountain APPA
Rocky Mountain APPA promotes the common interests of planning, maintenance and operation of facilities within the region's educational institutions, supports and supplements the activities of APPA, and fosters a professional spirit among those engaged in this work.
The RMA includes the U.S. states of Arizona, Colorado, Idaho, Montana, New Mexico, Utah, Wyoming, the Canadian provinces of Alberta and Saskatchewan and the Northwest Territories, and the Mexican states of Sonora, Chihuahua, Sinaloa, Durango, and Nayarit
---
Professional Development
APPA Leadership Academy, Track 3, will be held at CU Anschutz/Denver, October 7-9, 2019. Contact Layna Johnson to register.
---
 RMA 2018 Photos
---
RMA News
RMA News is designed to facilitate involvement and engagement with the RMA membership. This is your newsletter! If you have a story idea, or simply want to share about what's happening at your campus, contact Timm Lyons at lyonst@byui.edu. Happy reading!
---
RMA 2019 Conference Video
Mexico's Gastronomy Video