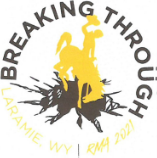 ANNOUNCING: 2021 RMA Conference
SAVE THE DATE: October 26-28
Greetings RMA,
The RMA Board of Directors want to announce a free virtual conference to both say thank you for our continued partnerships and to reconnect with members. RMA recognizes the constraints with budgets and travel and understands how important it is to stay connected, informed and collaborate. Therefore, we want to continue to provide a professional development opportunity via a virtual conference this October hosted by the University of Wyoming. We ask you to consider joining this free event taking place October 26-28, 2021! This will be a 3- hour, 3-day conference.
 
This year's conference theme "Breaking Through," is intended to explore what we learned over the past 18-months and how everyone is collaborating to keep moving forward. We look to connect members through presentations and virtual booths to share valuable insights and best practices and information. We hope you will enjoy this 3-day interactive Virtual Conference. Be on the lookout for ways to participate including call for programs and registration.

From the President:
I want to thank all of our members for their patience while the RMA board worked through the challenges of 2020. This was the year of the pandemic which caused all institutions to modify their instructional methods and increase the efforts of facilities management professionals to provide safe academic facilities. We weathered the storm and developed a new way of doing business to support new academic missions. Unfortunately, APPA and RMA had to cancel our annual conferences that everyone looks forward to attending. RMA's board of directors were faced with some pretty daunting challenges during the past year. To maintain continuity of operations the board members voted to consider 2020 a null year and everyone received support from their institutions to extend their term one additional year.
The pandemic challenged institutional budgets and created unforeseen changes within our board of directors. Realignment of duties and budget reductions created vacancies within the board. Kent Andersen had to step down as President to focus on university operations which moved me to become president earlier than expected. Kent did an outstanding job leading RMA and I appreciate all of his mentoring during our time on the board. Our first order of business was to fill the vacancies on the board and re-engage the membership. John Gleason, University of Colorado Boulder, has become President-Elect, EJ Hook, Montana State University, is the Information and Communications chair person, Matt Vecchio, Assa Abloy is the Business Partner Representative, Jessica Bradley, University of Colorado Boulder, became the Awards and Recognition chair person, and we are currently working to replace the vacant Membership and Community Engagement chair person. We will be soliciting interested participants in future membership communications.
The board was focused on filling vacancies which resulted in us being silent during the last half of 2020. I want to apologize to the members for dropping the ball during this time and want to ensure you that we are on track and that you will receive regular communications from the board going forward. Giving back to our members is a goal of the board. One way to give back to the members is providing additional opportunities to participate in professional development opportunities. The board conducted our Spring meeting and we are increasing the number of scholarships that are available for members to obtain free or reduced tuition to the APPA Facilities Summit, Leadership Academy, APPA Institute, and Supervisor's Toolkits. Watch for new announcements in our newsletter and on the webpage.
We are planning for a virtual meeting in the fall of 2021. Our annual meeting committee is researching virtual options and reviewing what other regions have done to ensure a successful event. If you have any suggestions for please contact an RMA board member.
Thank you again for actively participating in APPA and RMA. I appreciate all of your support for the organization and welcome any comments.
---
COVID-19
APPA is a great resource for information and discussion of the impacts of and guidelines for dealing with this new territory. Go to https://www.appa.org/covid19-resources-and-guidelines/ for more information and to connect with others in our industry.
---
Welcome to Rocky Mountain APPA
Rocky Mountain APPA promotes the common interests of planning, maintenance and operation of facilities within the region's educational institutions, supports and supplements the activities of APPA, and fosters a professional spirit among those engaged in this work.
The RMA includes the U.S. states of Arizona, Colorado, Idaho, Montana, New Mexico, Utah, Wyoming, the Canadian provinces of Alberta and Saskatchewan and the Northwest Territories, and the Mexican states of Sonora, Chihuahua, Sinaloa, Durango, and Nayarit
---
RMA Happenings
Jessica Bradley, Interim Acting Associate Director of Facilities at the University of Colorado Boulder, has excepted and has been appointed as RMA's new Awards & Recognition Chair. The RMA board is committed to continuing our support in offering opportunities through scholarships in order to develop individuals as Facilities Management Professionals.
If you have a story idea, or simply want to share what's happening on your campus, contact Timm Lyons at [email protected].
---
Webinars and Training
---