Message from the RMA President
I wanted to share why I feel APPA and RMA has been important to me.
As a facilities professional for an institution of higher education we have so many opportunities.  Consider for a monument what it would be like to be a facilities professional for a sporting complex, or a hospital, or maybe a corporate office.  Chances are, if you are in higher education, you have these types of facilities within your campus.
So what is the difference between what we do and what other facilities professionals do? It is all about our focus.  We focus on education.  We focus on students. We focus on learning.
APPA focuses specifically on us.  They specialize on us.  This is what makes APPA so important to me.
The people I have come to know in APPA and RMA have helped me, mentored me and supported me to accomplish my career goals.  Consider the names of Doug Christensen, Lander Medlin, Wayne Clark, Glen Smith, Luis Rocha, Emmet Boyle, Lisa Potter, Marie Wells, Dave Turnquist.  You many not know these names but they are some of the many great people that I have met in APPA.  They are my mentors and friends.  They are all outstanding facilities professionals.
I hope that you may experience the same benefit, finding your mentors and friends, as you experience APPA within your profession.
Finally I would like to thank our business partners.  Without them we could not do our jobs.
I look forward to continuing to get to know more mentors, friends and business partners in the years to come.
May the next fish you catch be bigger!
Sincerely,
Kent Anderson
RMA President 2019/2020
Sheridan College
---

---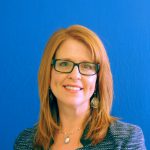 Professional Development
Jenna Elmer
University of Arizona
[email protected]
520-621-3849
---