Tuesday, September 17, 2019 – "Jungle" Jim Hunter
The Original Crazy Canuck
Olympian, 5 Time Hall of Famer, 8 Time Canadian National Ski Team Champion
"Jungle", the Original Crazy Canuck, brought a whole new perspective to the challenge of being the fastest person down a snow-covered mountainside.
His daring and reckless abandon brought international acclaim to the Canadian National Ski Team during his tenure from 1969 to 1977.
Jungle remains one of Canada's most recognized and successful male skiers highlighted by a bronze medal at the 1972 Olympic Winter Games at Sapporo, Japan in the combined downhill event.
Jungle's revolutionary training became legendary in the history of alpine skiing. It had to be as his off-season training in the 1970s was based on the family farm near Shaunavon, Saskatchewan (a province known for wide open flat spaces, not so much so for mountains… or even hills). As a result, the use of big tractor tires, ramps of straw, and balancing on top of his dad's pick-up truck, though unusual, were common activities for this innovative skier.
Jungle currently uses his wealth of experience to encourage others in reaching goals and meeting challenges; motivating people to reach the potential in their lives.
Jungle Jim's accomplishments include managing the Olympic Torch Relay for the 1988 Olympic Winter Games in Calgary, Alberta where he raised funds for athletes and coaches through the Torch Relay Legacy Fund.
He is currently working on his book, 'Time On Task', explaining how he rose from the prairies to the Olympic podium in six years.
Wednesday, September 18, 2019 – Caroline Hedin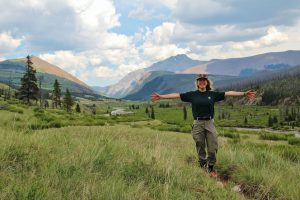 Parks Canada Officer, Caroline Hedin will speak about the Bison Reintroduction Project in Banff, Alberta.
Caroline is the Outreach Education Officer for the landmark Bison Reintroduction Project in Banff National Park. She has worked for nearly 10 years to help share Parks Canada's bison conservation story through outreach and education programming for visitors from around the world and Canadians across the country.